Body area
Symbol of the province
Symbol of the province
The embodies the extensive mountain range. symbolizes East Sea spreading towards the world, and reflects the abundant fields. ,the provincial bird, the common heron, embodies the movement towards future development and prosperity. Nakdonggang River represents the nurturing breast of the southeastern region of Korea. The overall diamond-shaped figure in the traditional pattern symbolizes the pride, unity, and spirit of the Gyeongsangbuk-do enterprise.
Character - Sinnari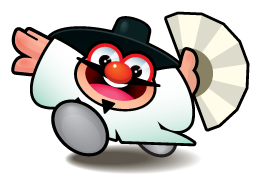 Sinnari is a compound word combining sinnada (meaning "excited") and nari (a term of respect for the nobility). Thus, sinnada means developing an exciting and powerful or noble future for a new millennium full of hope in Gyeongsangbuk-do, and Lets create an exciting Gyeongsangbuk-do by revitalizing the provincial administration!
Provincial Tree - Zelcova Tree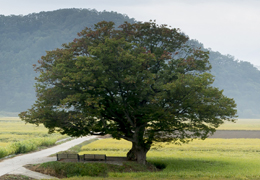 Zelcova trees are deeply rooted, long-living trees seen throughout Gyeongsangbuk-do. They grow well even in barren soil, thanks to their strong vitality. Zelcova trees symbolize the prosperity and adaptability of the Gyeongsangbuk-do residents, and match the spirit of the residents by displaying endurance and the energy to overcome all adversities.
Provincial Flower - Crape Myrtle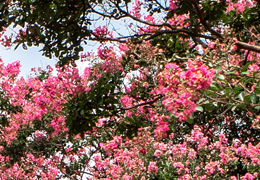 The crape myrtle endures hot weather and grows well in barren soil. The elegant, sublime, and strong flowers, leaves, and trees illustrate the strong will, modest dignity, and vitality of the Gyeongsangbuk-do residents.
Provincial Bird - Common Heron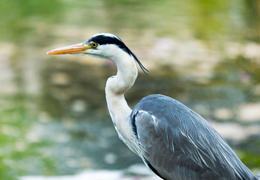 The common heron is a lucky omen symbolizing wealth. Its belly is black, and its flank and legs are brown. Its dignity and peaceful appearance as well as the fact that it is large also symbolize Gyeongsangbuk-do.
TOP